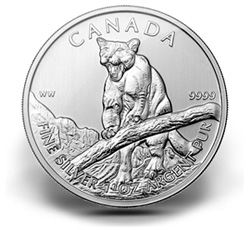 It's an exciting month for September. With Perth Mint introducing the2012 Lunar Dragon, Royal Canadian Mint will be updating their Canadian Wildlife Series with Cougar.
With one of the finest available 0.9999 pure silver bullion coin in market, Cougar is the third of a six-coin series of silver bullion coins celebrating Canada's Wildlife.
It is limited to a mintage of one million coins and three more issues are scheduled to follow (one dated 2012 and two others dated 2013).

Ottawa, Ontario – August 17, 2011 – The Royal Canadian Mint is proud to announce the upcoming release of two new exciting one-ounce bullion coins as investors in Canada and around the world continue to clamour for its industry-leading gold and silver bullion products. The designs of the 99999 pure 2011 "RCMP" gold bullion coin and of the 2012 "Cougar" issue from its popular Canadian Wildlife 9999 pure silver bullion coin series were unveiled at the American Numismatic Association's 2011 World's Fair of Money in Chicago, Illinois, USA, before an audience of expert coin collectors and long-time distributors of Mint bullion products.

Read more about the release: http://www.mint.ca/store/news/
Personally, I am a big fan of Canadian Wildlife Series. I owned the wolf and bear. The cougar design looks alive and energetic! I am looking forward in hoarding many of the cougar soon!
References:
Related Posts: