Storing your precious has gradually becoming a rocket science due to the large variety of holders available for sale. Silver bullion will need proper housing especially numismatic coins.
In general, there are 3 main categories for bullion coins holder. They are namely, flips, capsules and tubes. For flips, they are 3 types which is the normal plastic flip (also known as vinyl), non-plasticized flip and Saflip (Mylar flips).
Vinyl Flip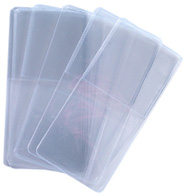 Vinyl flips contains PVC and plasticizer. Plasticizer is a chemical added to soften the PVC. It is not recommended to use vinyl flips for long term preservation. PVC may corrode a coin's surface, causing permanent damage to your precious bullion coins. In short, it is cheap but potentially harmful.
Non-Plasticized Flip
These pocket flips are non-plasticized and contain no softeners, PVC or other chemicals and are safe for long term coin storage. These flips are more rigid than regular vinyl flips as it does not contain softeners. This would be among the cheapest holder of all available holder.
[Read more →]