A few days back, I decided to write my own calculator that calculates margins for Gold and Silver. I hit my key board hard, coding like how I used to code 10 years ago.
With that, tailor-made for Malaysian, exclusively from InvestSilverMalaysia.com – The ISM Gold/Silver Spot Calculator!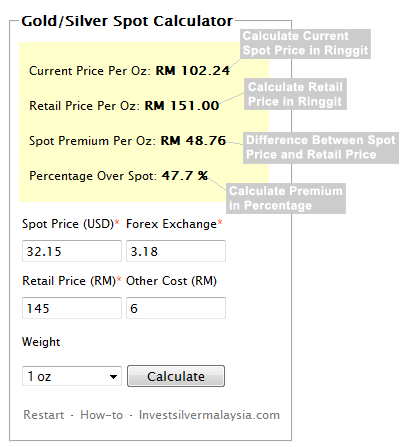 How to use ISM Gold/Silver Spot Calculator
I have designed the calculator to be as simple as possible. You will need to fill in the current spot price – be it Gold or Silver, current MYR exchange rate with USD, retail price and the weight of purchase. As simple as that! You can also key in other cost if you like to have it included in the calculation.
The calculator is currently located on InvestSilverMalaysia.com's right panel. You should be able to see it big and clear.
[Read more →]