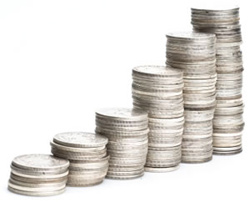 When it comes to precious metal investment in coins format, it is recommended that we invest in bullion coins. Bullion coin is a coin struck from gold, silver, platinum or palladium. Generally, investment grade bullion coins have purity of not less than 0.9 fineness. For silver, it is recommended to buy fineness with triple 9 (0.999) or more.
Although bullion coins usually have legal tender in their country of origin, its legal tender value are ignorable as it is valued lower than the actual metal price. For instance, 1 oz of American Eagle silver has a legal tender of USD$ 1 value. Would you like to trade it with my RM3.00?
There are plenty of different bullion coins in the market. In this post, we will discuss the top five favourites for Malaysia.
Top five silver bullion coins for Malaysia are:
1) Canadian Maple Leafs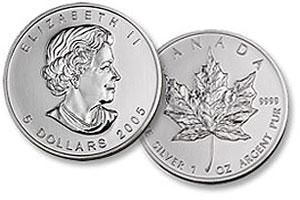 While most of our favourite silver bullion uses animals as emblem, The Royal Canadian Mint minted maple leaf for Canada's official bullion. It is no doubt the best representation for Canada.
Not only the Maple Leaf is Malaysian's top favourite, it is also one of the world best selling bullion coins. The Royal Canadian Mint's 2010 annual report reports that in year 2010, they have sold 17,799,992 of them.
Seventeen millions, seven hundred thousand, ninety nine thousand, nine hundred and ninety two ounces. That's 82.98% increase from year 2009 of 9,727,592!
The Canadian Silver Maple Leafs are certified with silver purity of .9999 (quad nines), making these coins the highest purity silver coin minted by a government mint.

Click here for Royal Canadian Mint's official 2010 Annual Report.
2) American Silver Eagles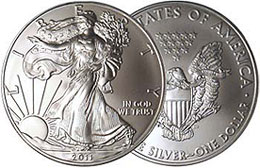 The American Silver Eagle is the official silver bullion coin of the United States since 1986. Silver purity of .999 by United State Mint (US Mint). American Silver Eagle is the world's best selling silver bullion.
20.5 million in 2008, 30.4 million in 2009 and 34.7 million in 2010. That's the amount in ounces sold. Do I need to say more?

Click here for US Mint's official brochure for American Eagles.
3) Chinese Pandas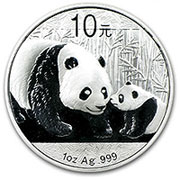 The Chinese Panda silver bullion is minted .999 fine silver by China Gold Coin Incorporation. Chinese Panda silver coins have become one of the major investment coins in Malaysia. They are characterized not only by their metal value but also their numismatic value for the design. Panda coin design changes every year, which increases the artistic attraction and collective value of the coin.
Comparing to western mints, the mintage of Chinese Panda is extremely low. There are 3 million of 2011 pandas scheduled to release into the market. In year 2010, there are 1.5 million of them. The availability shrunk to only 600,000 for year between 2003 and 2009. Mintage is less than 500,000 per year prior to 2002.
One unique feature of the Silver Panda is the reeling is slanted. This acts as a security feature to prevent counterfeit.
The Chinese Panda is definitely one of the best treasure for silver coin investors.
4) Australian Kookaburras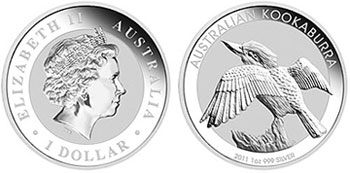 Just like the Chinese Panda, Australian Kookaburra changes design every year. These .999 fine silver coins have a superior quality finish which incorporates delicate, proof-like frosting within the central design. Minted by the world acclaimed Australia's Perth Mint, 1 oz Kookaburras are limited to 300,000 mintage per year.
You can buy them in 1kg as well.
5) Australian Lunar Series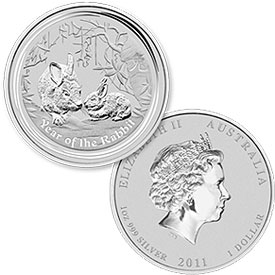 Also minted by Australia's Perth Mint, these Lunar Series are based on the ancient 12-year Chinese Lunar Calendar. The current running set is the second series which started with mouse in year 2008. The first series ran from the period of 12-year cycle starting in 1996 and ending in 2007. Lunar series was originally introduced in only gold, but in 1999 Perth Mint added silver coins.
Lunar series are used not only as investment but also as gift. This is especially true for the Asian community.
You will notice that it is difficult to find any seller selling a recent year 2010 Tiger coin. If you do, it would be at least twice the price of current's 2011 Rabbit. A quick check at ebay for series 2000 1 oz Dragon is US $178.45. Tiger, Dragon and Horse are usually the most seek after horoscopes. The least favourite horoscopes are mouse and snake.
Malaysian's favourite
The above top 5 is what I reckon are the best bet for your silver bullion investment in Malaysia.
If you are new and would want to start investing your first coin, any one of the above would serve you well. Each of them has their pros and cons. For instance, although Canadian Maple Leaf has the highest purity of .9999 silver, it has the highest chance of getting milk spot or tarnished. Lunar series are great but you have to be prepared to pay an extra premium for it.
Apart from the five silver bullion coins above, you can further explore the Mexican Libertad, Austrian Vienna Philharmonic and British Britannia.
So, which silver bullion is your favourite?
Buy Silver Bullion Coins in Malaysia
BuySilverMalaysia.com carries brand new and uncirculated Canadian Maple Leafs, American Eagles and Austrian Philharmonics silver coins with live silver spot price based on COMEX. Shipping throughout Malaysia (including Sabah & Sarawak) is free for purchases above RM300.
Instant 3.5% Rebate Off
Opt for payment via bank transfer (HSBC, Public Bank, Maybank, RHB or CIMB) for your order at BuySilverMalaysia.com and receive 3.5% rebate immediately off your total bill! No string attached!
Limited Time Offer – RM6 off
While checking out at BuySilverMalaysia.com, apply this code ISMTOP5COINS and enjoy immediate RM6 off! Applicable for American Eagles, Austrian Philharmonic and Canadian Maples only. Not applicable for value pack or combo pack. Limited time offer.
References:
Related Posts: