So that now you have decided to buy silver bars for your investment and yet you are stuck at another cross road.
"With so many types of silver bars in the market, which one should I buy"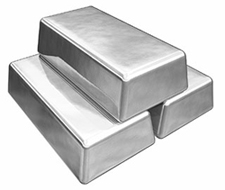 To answer the above question, it is best that we look into what's available in our market. Not all silver bars are made equal. I have noticed a few particular brands are more popular here than others. Over the course of my own research, I have summarized that the following silver bars are among Malaysian's favourites.
They are:
Pamp Suisse Silver Bars
Scottsdale Silver Bars
Sunshine Silver Bars
Silver Towne Silver Bars
PAMP Suisse Bars – The Royce Rolls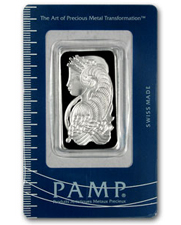 If you must know, PAMP stands for Produits Artistiques Métaux Précieux, which in French means artistic, precious metals products. With that alone, it's worth the extra dollar. Not only is the PAMP Suisse bar one of the most popular bullion in the world, it is also one which carries a very high premium.
While a generic silver bar may sells at around 2-4 dollars above spot price, PAMP Suisse bars are sold at 20 dollars above spot price. They don't call her the Royce Rolls of silver bars for nothing. Buy in bundles of 25s, and the ladies will come with a nice outer box.
… and that lady in the bar, her name is Lady Fortuna.
Official website: http://www.pamp.com
Scottsdale Silver Bars – The Stackers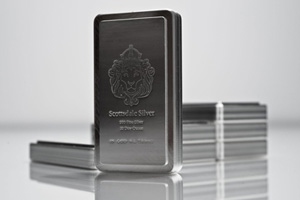 Scottsdale Silver bars are easily recognisable by their distinctive lion logo on all their bars. They are made in USA with prefectionist manufacturing. Portion of their silver are recovered thru recycling activities from the photography and manufacturing industry.
Undoubtedly, "The Stacker" would be Scottsdale Silver's signature product. Scottsdale Silver's "The Stacker" stacks nicely ontop of each other making it easy, neat and space-saving for storage. Stackers come in various weight: "The Stacker (10oz)", "The Kilo Stacker (1kg)" and "The King Stacker (100oz)". All are authorized for use in IRA by the Internal Revenue Service of the United States of America and are ISO-9000-2008 certified.
Think IRA (Individual Retirement Account) as the American's version of KWSP. Americans has the option to buy precious metals as part of their government backed retirement plan.
Official website: http://scottsdalesilver.com

Sunshine Bars – Your McValue Meals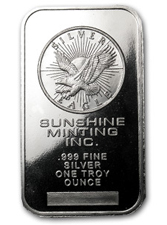 If you like American Eagle silver coin, you will definately loves the Sunshine bar. Sunshine bars are minted by Sunshine Mint, Inc in Idaho, North America. They are the primary supplier of silver blank to U.S. Mint, the maker of the popular American Eagle silver bullion.
If the U.S. Mint are minting using Sunshine Mint's silver, there is no doubt that the quality of their silver are among the best.
Think of it as McValue Meals from American Eagle. You can also get the American Eagle on their silver bars, but instead of the American Eagle, it's called the Silver Eagle!
Official website: http://www.sunshinemint.com
Silver Towne Bars – The Donkey Bars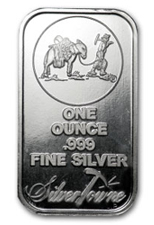 Many of our local sellers refer to them as Silvertowne, but in fact the brand consists of 2 words – Silver Towne. Minted by the Silver Towne Mint in Winchester, Indiana, Silver Towne silver bars are usually traded 1:1 with Sunshine silver bars. The minting company has more than 60 years of history and their silver bars are easily recognizable with a miner leading a donkey along emblem.
Official website: http://www.silvertownemint.com
Other Bars
There are plenty other brands available. These includes Engelhard, Johnson Matthey and Perth Mint among others. It would be difficult to cover all but I would periodically review more brands as time comes. It ranges from highly internationally recognized to some unpopular private mints. Each bar comes with it's own pro and con.
So, which one to buy?
When it comes to investing silver bars, buy only those which are .999 fine silver. Anything else is not advisable. All of the above mentioned silver bars are .999 fine silver. These are easy to liquidate in our market via online auctions, classifieds or forums. It's up to your personal preferences on which ones do you like. While I like the design of PAMP Suisse, I also love Scottsdale Silver's stacking feature. Premium wise, Scottsdale Silver pricing are comparable with Sunshine and Silvertowne.
Personally, I prefer to buy silver bars which will bring out the most value from my Ringgit. PAMP Suise is an excellent product with one of the best designs in the world. However, with a premium of 10 times of the spot price over generic silver bars, I would have profited more from buying the latter. Using the premium, I could have accumulated more "Stackers" for my investment portfolio.
This doesn't mean that I won't be purchasing the ladies. It would serve as a great trophy of achievement in my collectors box one day.
Buy Silver Bullion Bar in Malaysia
BuySilverMalaysia.com carries brand new and uncirculated silver bullion bars with live silver spot price based on COMEX. Shipping throughout Malaysia (including Sabah & Sarawak) is free for purchases above RM300.
Instant 3.5% Rebate Off
Opt for payment via bank transfer (HSBC, Public Bank, RHB, Maybank or CIMB) for your order at BuySilverMalaysia.com and receive 3.5% rebate immediately off your total bill.
Limited Time Offer – RM8 Off
While checking out at BuySilverMalaysia.com, apply this code WHICHBAR08 and enjoy immediate RM8 off your total bill! Applicable for all silver bar products. Limited time only!
Related Posts: